The French-speaking isle of St Barths can most succinctly be described as a Caribbean St Tropez.  A favourite retreat of the rich and famous, the island is renowned for its scenic beauty, chic boutiques, and fabulous French cuisine.    
A popular spot for the superyacht fleet, the isle features on many a cruising itinerary. But venture beyond the port of Gustavia, and you'll discover this island's lesser-known treasures.
History
Between the beaches and multi-million-dollar villas, are a few remaining sites that detail the island's history.  Saint Barthélemy has been under French rule since 1648.  In 1784 it was given to Sweden in exchange for Gothenburg trading rights but was sold back to France in 1878.
The Wall House exhibits the island's Swedish colonial era, and there are three 17th century forts that were built to protect the harbour.  The petite Anglican Church of Saint-Bartholomew, located at the far end of Gustavia's harbour, was built in 1855.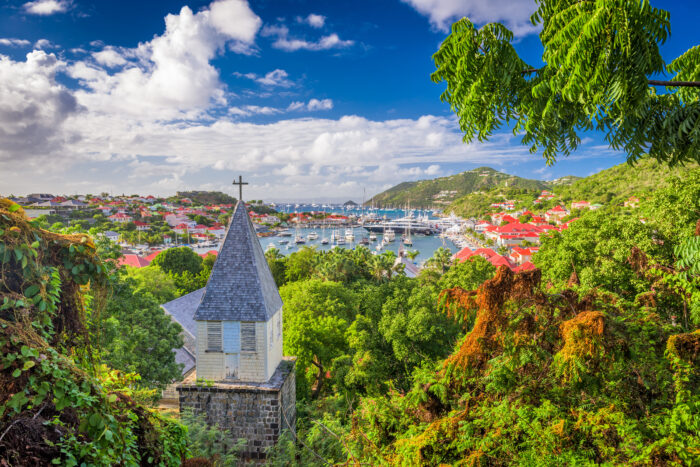 Beaches
Behind the town is Shell Beach, which has a deep and sheltered anchorage and a crescent-shaped beach. Drop anchor in the bay and swim ashore for a lobster lunch with your feet in the sand, and admire your vessel from another vantage point.  
The village of St Jean is adjacent to the airport on the northern coast and here you'll find both the Eden Rock resort and Nikki Beach.  A pristine stretch of sand and turquoise sea, this spot is most famous for its position at the end of the airport runway.  To the east of St Jean is the quieter bay of Lorient.  There are calm waters here that are ideal for snorkelling and you'll find yourself amongst a much more local crowd.  
In St Barths' northwestern corner is Flamands – one of the longest sandy beaches on the island.  It can be a little breezy here and the surf gets whipped up, but the Cheval Blanc Resort offers enticing respite.  At the northwestern tip, one reaches Anse de Colombier.  This is a protected bay and a premium snorkelling spot with green sea turtles, stingrays and barracuda all common sightings amongst a myriad of colourful reef fish.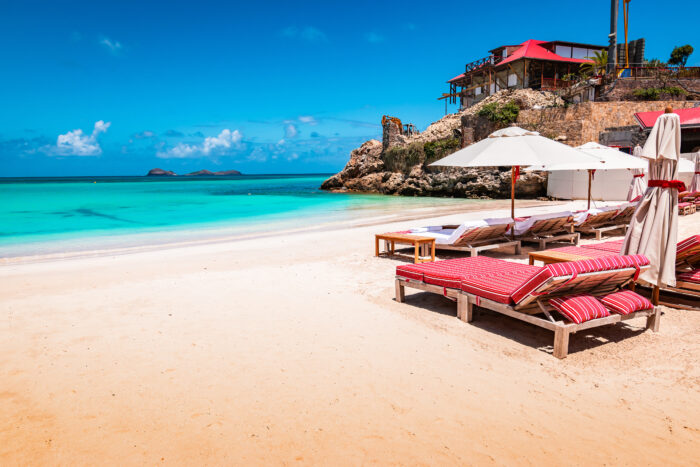 Restaurants
La Petite Plage
Where better to embrace French 'joie de vivre' than St Barths?  La Petite Plage is located in the heart of Gustavia, right on the harbour and, come nightfall, dishes are served to the sounds of a DJ and a party atmosphere often ensues.
The glass-fronted establishment faces the water and there are a few smaller tables out front, should you want to dine al fresco.
Shellona
Taking prime position on Shell Beach, close to Gustavia, Shellona is a popular spot for long, relaxed luncheons.  The cuisine takes a Greek tone, with a menu crafted by Chef Yiannia Kioroglou.  Expect Mediterranean, Caribbean and French fare all with a gastronomic Grecian twist.  Ask for a table upstairs for more of a view or dine in the beach-front lounge area with your feet in the sand.  
Tamarin
The Tamarin restaurant is found within a tropical garden of lush plants, banana trees and ylang-ylang.  As night falls, this delicately lit jungle entices you in with its scent and colour, promising a sensory experience like no other.
Occupying a secluded setting nestled in the hillside, it's ideal for both more intimate and romantic dining as well as larger groups, with the vegetation providing a natural divide between diners and creating separate seating areas.
Head Chef is Jérôme Lebeau and his delicious French cuisine comes with an international twist and exotic style.  The Saint-Jacques carpaccio, lobster and octopus come highly recommended. 
Le Ti
This Caribbean tavern runs a traditional charcoal BBQ, accompanied by a nightly cabaret show.  Party like a pirate and dance on the tables to the tunes of the resident DJ, and if you feel like your attire isn't quite up to the atmosphere, simply take a look in their fancy-dress room!
The restaurant's 60-day-aged Angus prime rib is a popular choice from the grill, but there's also a sizable tuna tataki and mahi-mahi fillet that are likely to take your fancy.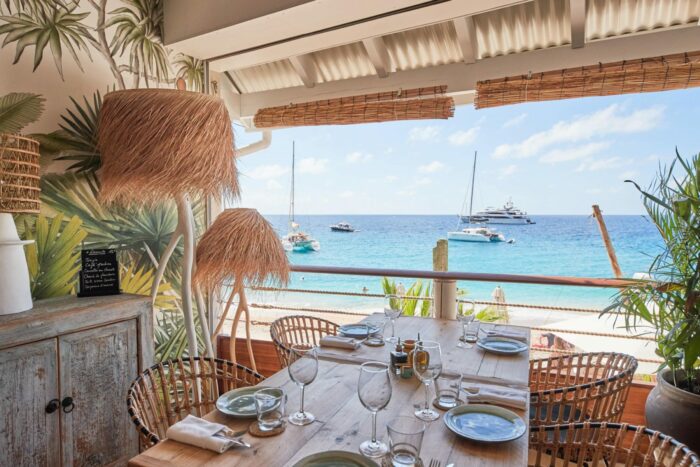 A hidden gem
The natural pool at Grand Fond isn't found in any tourist guides, and for good reason.  For some wild swimming, head for Grand Fond by car, and then follow the path towards the beach from the parking area.  When you reach the beach, turn right, and follow the small path through the big rocks.  You'll need to walk for 15 minutes, with the sea to your left and the mountain to your right, and then follow the sharp incline downwards.  You'll be rewarded by two crystal clear natural swimming pools, which are usually deserted.
To truly embrace St Barth's uber-chic secret side, our advice is to jump in a mini moke and tour the island for yourself.  Take the road less travelled – chances are, you'll find a beach at the end of it and someone waiting to pour you a glass of rosé.